Wish Lantern Launch Cancelled

When:
November 28, 2020
all-day
2020-11-28T00:00:00-01:00
2020-11-29T00:00:00-01:00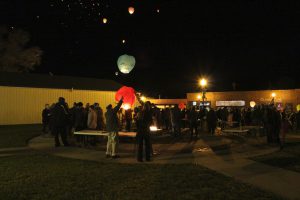 Due to the current Burn Ban and the rise in Covid cases, we will not be sponsoring the Lantern Launch for 2020.  Thank you for your understanding.
The annual Holiday Tree Lighting and Wish Lantern Launch festivities in Malvern are held the Saturday after Thanksgiving, weather conditions permitting. Holiday carols, hot chocolate, a tree lighting ceremony are the prelude to the climax of the evening, the Wish Lantern Launch. Dozens of beautiful paper lanterns are decorated with written messages, memories and memorials or whatever participants wish to release into the star-filled sky. Then the fun begins! Each lantern is lit, allowed to gain buoyancy and released to float for miles aloft. A beautiful sight and a great time of fellowship to start the Holiday season.