Fundraising
Renovations Begin on Liberty Memorial Building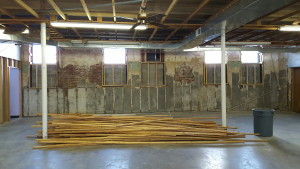 The Liberty Memorial Building Board and Malvern Area Betterment Association have partnered to raise funds for much needed renovations in the lower level of the community building. Last fall MABA was awarded $40,000 for the project from the Mills County Community Foundation through the William Costello Fund.
The Mills County Supervisors would like to have all elections moved back to the Community Building given the fact that there is more space for election officials, equipment, and voters there. To accomplish that, the Supervisors have offered to help fund construction of an ADA accessible door and ramp for the lower level of the building. During the renovation the largest bathroom downstairs will become handicapped accessible.
Work began on the project January 19, 2016. The Memorial Building board trustees awarded the bid to John McCollum, owner of T & J Construction from Villisca, IA. The plan is to have Phase I of the project completed prior to the June Primary elections.
The goal for this phase of the renovation is to include: revealing and restoring the original 1920s tin ceiling, upgrade the electrical wiring & panel, new windows in the lower level, adding a changing station in the bathroom, new lighting, ceiling fans, ADA door, ramp and bathroom. The entire space will be painted. Once completed, visitors should discover a whole new appearance, one that is partially restored to a similar manner of the original lower level when it was built in 1926 as a memorial to World War I veterans.
Other renovations will still be needed throughout the building including new flooring for the lower level. As funds become available the building board will completely remodel the kitchen which will provide amenities of a commercial kitchen to accommodate large groups for banquets. Since the building is also a designated shelter for emergencies and disasters, the kitchen will be the next phase when enough donations and grants are received.
The building is still in great need of a backup electric generator to be able to serve the public in emergencies. The old generator is a 1950s era machine that no longer works.
Public donations are being accepted for the renovation at the Malvern Trust and Savings Bank.  MABA has set up a special account for donors who choose to participate in this extraordinary community betterment project.
Online Donations are also accepted using the button below: